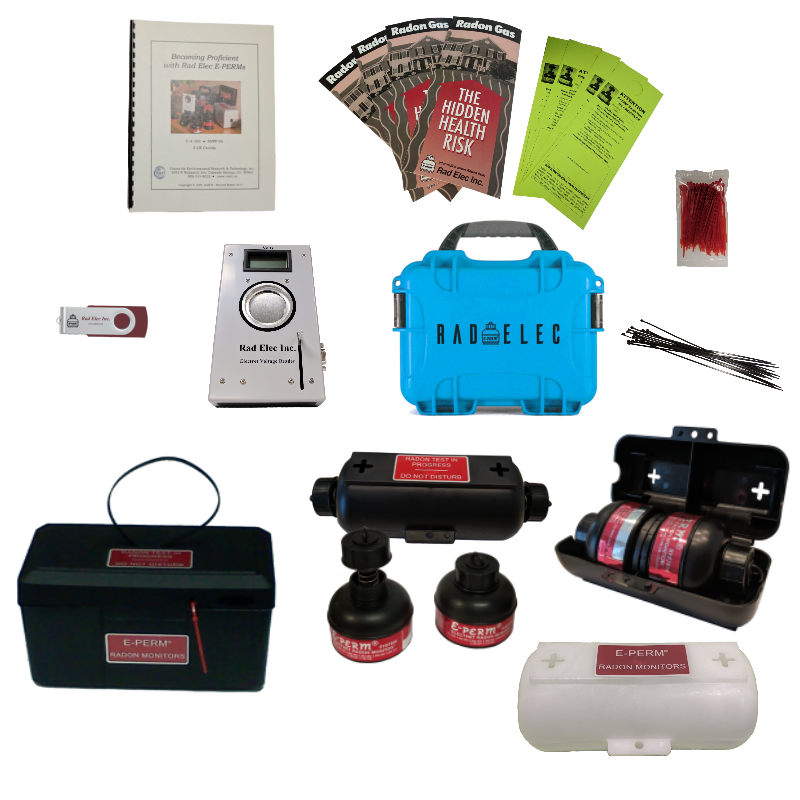  
E-PERM® Radon Starter Kit
The Starter Kit comes with everything you need to get your radon testing business up and running. It includes a SPER-1E voltage reader, 6 S-chambers and short-term electrets, 3 deployment sleeves (or twin boxes), a flash drive with the Radon Report Manager software, spreadsheets, and more!
The E-PERM® Radon Starter Kit includes:
1 SPER-1E Reader with Case and Desiccant
2 Reference Electrets (1 Set)
6 S-Chambers
6 Short-Term Electrets
3 Deployment Sleeves / Twin Boxes
Radon Report Manager Software
E-PERM® User's Proficiency Course
E-PERM® Operator's Manual
Quality Assurance Plan
Package of 100 4" Lock Ties
Package of 25 14" Lock Ties
10 Sheets of Tamper Indicating Tape
5 copies of Marketing Brochures
10 "Radon Test in Progress" Door Hangers
The Deluxe Starter Kit also includes a Recon® Continuous Radon Monitor and Protective Case! We will contact you in order to customize your Recon color and case combinations.
Data sheet
Height

13" (34 cm)

Width

13" (34 cm)

Depth

19" (49 cm)

Weight

14 lbs (6.3 kg)
Customers who bought this product also bought: